Over 10,850 Original Photos & Over 44 Video Clips, 60 Diary Entries & More!
Goddess Megan is in control! The Ultra Bitch Destroys, Defeats, Dominates & Humiliates her worthless slaves & opponents with her hot body & perfect feet!
Extreme Foot Worship, Body Worship, Martial Arts, Wrestling, Victory Poses, Smothers, Knock Outs, Domination, Humiliation, Forced Kissing & Much More!
"So here it is, I've got it on a silver platter for you. So relax & enjoy seeing your Goddess break these sluts & let your fingers to the walking!"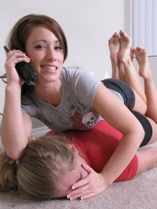 Your Goddess,
Megan
~Visit Our Other Great Sites~